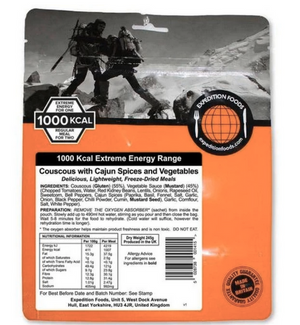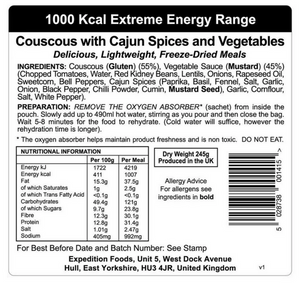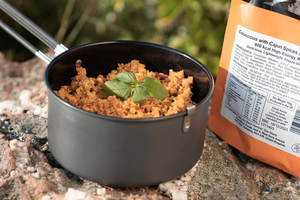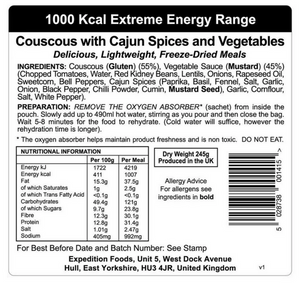 Couscous with Cajun Spices and Vegetables (for two)
Our Couscous with Cajun Spices and Vegetables is a vegan dream dish -- with couscous made from crushed steamed wheat, this North African dish combines traditional couscous, vegetables consisting of chopped tomatoes, red kidney beans, lentils, onions, sweetcorn and bell peppers with old-fashioned Louisiana cajun spices of paprika, basil, fennel, salt, garlic onion, black pepper and chilli powder. A relatively spicy dish that vegans and non-vegans love, it's best made as the sun sets over the Andean mountain range or on the top of The Quiraing. Add hot water, stir and let sit for five minutes. You'll be back for more.
MEAL TYPE:  Vegan
NET WEIGHT (G): 245
CALORIES (KCAL): 1007
Emergency Rations; Food for Outdoor Activities 

Long shelf life of up to 5 years  

Just add hot (or cold water, if necessary), seal the bag and wait to rehydrate

Highest calorie-to-weight ratio  
INGREDIENTS: Couscous (Gluten) (55%), Vegetable Sauce (Mustard) (45%) (Chopped Tomatoes, Water, Red Kidney Beans, Lentils, Onions, Rapeseed Oil, Sweetcorn, Bell Peppers, Cajun Spices (Paprika, Basil, Fennel, Salt, Garlic, Onion, Black Pepper, Chilli Powder, Cumin, Mustard Seed), Garlic, Cornflour, Salt, White Pepper).
ALLERGEN INFORMATION: Contains Gluten, Mustard
PREPARATION: REMOVE THE OXYGEN ABSORBER (Sachet) from inside the pouch. Slowly add hot water, stirring as you pour and then close the bag. Wait 5 minutes for the food to rehydrate.  Note: Cold water will suffice, however the re-hydration time is longer.
The oxygen absorber helps maintain product freshness and is non toxic. DO NOT EAT.
SHELF LIFE: Up to 5 years