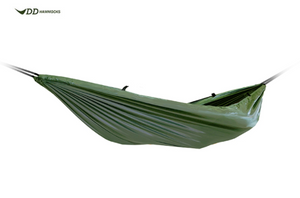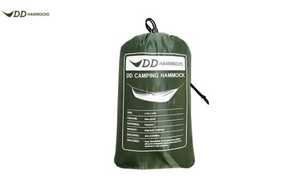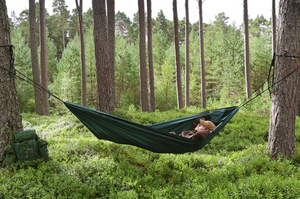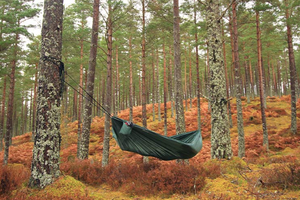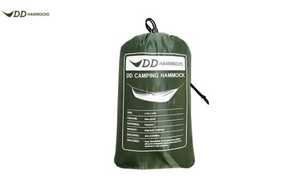 DD Camping Hammock
The DD Camping Hammock is DD's original hammock - It is enjoyed the world over by beginners and seasoned hammock campers alike!
Simple yet effective
Strong and lightweight, the DD Camping Hammock suits a range of uses from leisure to wild camping. It also benefits from two zip-open layers – for you to put Inflatable Mat between for added insulation.
Whether you're planning to lounge under the sun in your garden or spend a night amongst the trees in the wild, you can rely on the Camping Hammock for optimum comfort and durability. You have the option to use it alone, add rain protection with a DD Tarp, and attach a DD Underblanket using the 4 tabs on the sides for extra warmth in the colder months.
For easy storage of essentials and valuables, the DD Camping Hammock has 2 pouch pockets on the interior - ideal for keeping tabs on all your equipment!
The Camping Hammock's four handy side loops allow you to hang light gear (or the DD Beer Holder!) from the side of your hammock as well as attaching an Underblanket (for insulation) below your hammock. 
Spec Sheet for the DD Camping Hammock
| | |
| --- | --- |
| Size | 2.7m x 1.4m (comfortable for people up to 6ft 5in and 125kg) |
| Colour | Olive green |
| Weight | 650g (hammock only) |
| Includes | Camping Hammock, Webbing (10m), stuff sack |
| Weight limit | 125 kg |
Breathable, zippered double-layer design – insert a partially-inflated Inflatable Mat between the layers in cooler weather

Two double-sided zippers on the same zipline, for easy open and close

4 Tabs (2 on each side) for attaching a DD Underblanket
2 pouch pockets for easy gear storage

Pre-fitted with 10m of strong suspension webbing (5m each end)

Includes a stuff sack