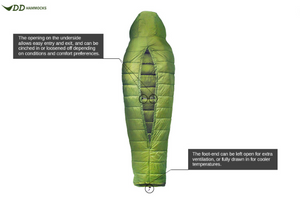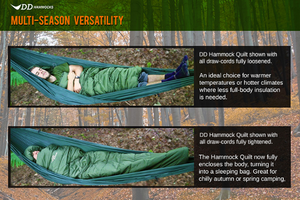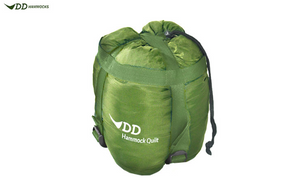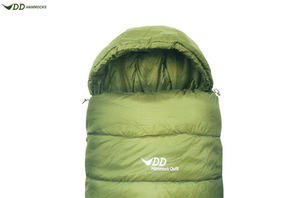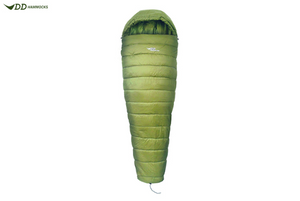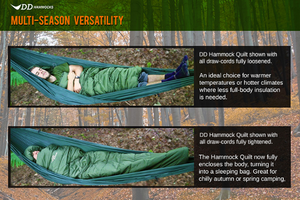 DD Hammock Quilt
New Improved Design for 2020

The DD Hammock Quilt makes an ideal comfort solution for spring-to-autumn camping. A lighter alternative to a sleeping bag, the quilt allows for easy and comfortable usage inside your hammock and compliments the DD Underblanket perfectly.
The Hammock Quilt features a three-quarter length opening on the underside, to allow for easy entry and exit when sleeping in a hammock, with an integrated hood and foot covering.
The underside opening features drawstrings round the perimeter – when pulled tighter, the quilt encloses around you. Similarly, the open foot end and hood can be cinched in with drawstrings of their own, essentially turning the quilt into a sleeping bag which wraps around the whole body. Ideal for keeping out an unexpected chilly breeze and retaining extra warmth until the sun rises.
If it warms up, or you want to spread out some more, just loosen the drawstrings and the quilt opens up again!
| | |
| --- | --- |
| Size | Comfy for people up to 6ft 5ins |
| Colour | Olive green |
| Weight | 875g |
| Includes | Hammock Quilt, compression sack |
Ripstop nylon quilt, filled with 200gsm synthetic silk.

Three-quarter length opening on the underside to allow easy access.

Drawcords on the underside opening, foot-end opening, and around the hood to adjust fit around the body.

Wider at the torso and narrower at the foot end, for a better fit around your body

Width at top = 128 cm
Width at bottom = 92 cm
Length = 194 cm

---
Recommended accessories:
DD Underblanket
The DD Hammock Quilt offers its optimum comfort level when used in temperatures down to 2°C (35°F) with an Underblanket.
Whether you use a Hammock Quilt or a sleeping bag for hammock camping is completely down to preference. If you'd like the extra option, consider our hammock-friendly
Jura 2 Sleeping Bag
– featuring a central zipper and waterproof footbox.