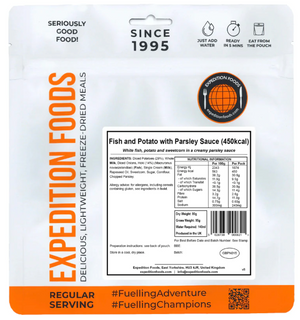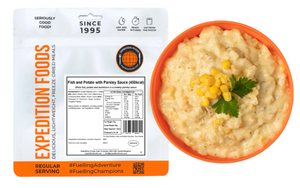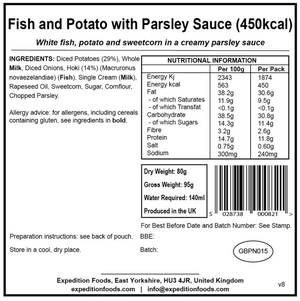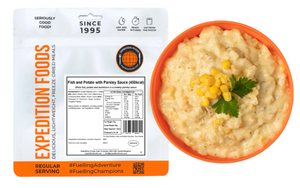 Fish and Potato with Parsley Sauce
One of the most loved Expedition Foods meals, Fish and Potato with Parsley Sauce makes a delicious dish for both fish lovers and non-fish lovers. Made with white fish, the dish is creamy potatoes with just the perfect blend of ingredients. A soothing meal whether you are ice fishing in Siberia or battling a sand storm in Morocco, made to be enjoyed and to replenish those lost calories. Add hot water, stir, let sit for five minutes and voila, you have an unbelievable meal.
WEIGHT (G): 95
CALORIES (KCAL): 456
Emergency Rations; Food for Outdoor Activities 

Long shelf life of up to 5 years  

Just add hot (or cold water, if necessary), seal the bag and wait to rehydrate

Highest calorie-to-weight ratio  
INGREDIENTS: Potato (29.3%), Milk, Onions, White Fish (13.6%), Cream (Milk), Sweetcorn, Vegetable Oil (Rapeseed), Cornflour, Sugar, Parsley.
ALLERGEN INFORMATION: Milk, Fish
PREPARATION: REMOVE THE OXYGEN ABSORBER (Sachet) from inside the pouch. Slowly add hot water, stirring as you pour and then close the bag. Wait 5 minutes for the food to rehydrate.  Note: Cold water will suffice, however the re-hydration time is longer.
The oxygen absorber helps maintain product freshness and is non toxic. DO NOT EAT.