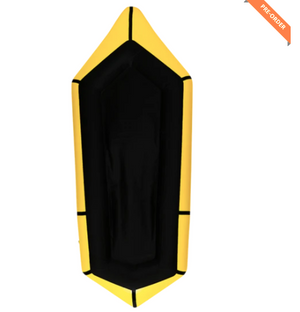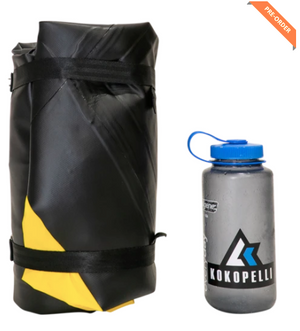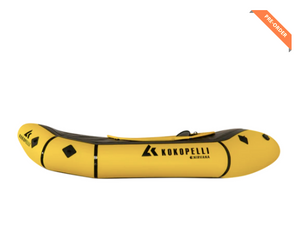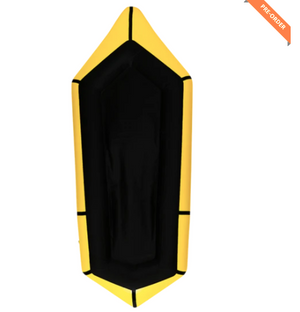 Kokopelli Nirvana Self-Bailing (Spray deck & with T-ZIP)
Please allow 14-business to ship this item. 
The Nirvana Spraydeck is designed to keep you high-and-dry while running challenging whitewater. Spraydecked packrafts are best for keeping you dry & warm, surfing bigger features without swamping (and getting rejected), and have extra reinforcement in the wear-areas for bikepacking. It performs best in Class I-III rivers and (new for 2020) features our 840d DuPontTM Kevlar® Aramid-Nylon Blend* reinforced floor system.
Weighing 11.1lbs (5.0kgs) and packing down to the size of a sleeping bag, the Nirvana is perfect for whitewater, backcountry trips, hiking, bikepacking, and multi-day adventures. 
*DuPontTM and Kevlar® are trademarks or registered trademarks of E.I. du Pont de Nemours. and Company.
Series: Whitewater Series

Material (Sidewall):

 

210d TPU + Nylon

Type: Whitewater-Deck 

Material (Floor): 840d TPU + DuPont Kevlar Aramid-Nylon Blend

Water Rating: Class I - III 

Valve (Pontoon):

 

Leafield D7

Chambers:

 

1 (Main Pontoon)

Valve (Seat): Stem

Weight Capacity: 300lb (136kg)

PSI (Pontoon):

 

1.0

Weight (Boat): 10.8lb (4.9kg)

PSI (Seat):

 

1.0

Weight (Boat + Key Accessories*): 12.0lb (5.5kg)

Outer (Length):

 

90in (229cm)

Weight (Boat + All Accessories): 12.9

b (5.9kg) 

Outer (Width):

 

37in (94cm)

Packed Size (Rolled): 14 x 12in (36 x 30cm)

Inner (Length):

 

57in (145cm)

Sprayskirt Compatible:

 

Yes  

Inner (Width):

 

16in (41cm)

Thigh-Strap Compatible: Yes

TiZip Zipper (Length)**:

 

21in (53cm)

E-Power Compatible:

 

No
Removable Tracking Fin (Length): NA
Removable Tracking Fin Compatible:

 

No

D-Ring (Material):

 

Mil-Spec Webbing - 1in (2.5cm)

Warranty (Boat):

 

3 Year
D-Ring (# of):

 

8 Total*** = 4 Bow + 2 Stern + 2 Internal***
Warranty (TiZip Zipper)**:

 

1 Year



*Key Accessories for the Nirvana Spraydeck include the Inflatable Seat plus the EVA Backband.
**TiZip Zipper is an optional feature.
***Internal D-Rings are only included on TiZip Zipper equipped models.
| | | |
| --- | --- | --- |
| Whitewater | Fishing | Bikepacking |
| Backpacking | Adventure Travel | Canyoneering |