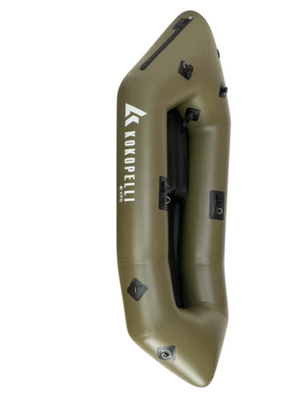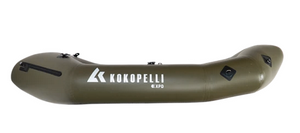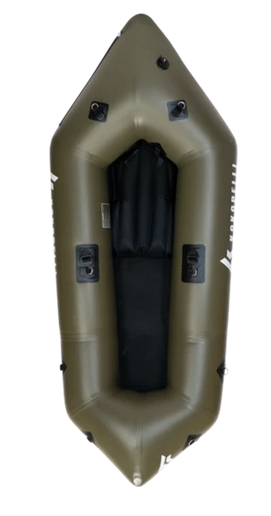 Kokopelli XPD
Please allow 14-days for delivery
The most versatile packraft available, the XPD weighs only 13lbs (5.9kgs) and packs down small enough to fit into a backpack. Constructed with 1,000d 
reinforced PVC
 and designed on our award-winning Rogue-lite platform with input from Special Operations teams, the rugged XPD is ideal for entry-level paddlers, lakes, hunting, multi-sport adventures, car camping, weekend-warriors, and those paddling harsher terrains. 
1x XPD*
1x Nano Barrel Pump
1x Compression Strap Set
1x Inflatable Seat
1x Repair Kit with Glue
1x TiZip Zipper Lubricant*
*EVA Backband is NOT INCLUDED but is compatible with this packraft
**Included with TiZip Zipper equipped packrafts only 
Series: Adventure Series

Material (Sidewall): 1000d Reinforced PVC

Type: Bucket

Material (Floor): 1000d Reinforced PVC

Water Rating: Flat Water, Bays & Inlets, Class I - II

Valve (Pontoon): GRI Push-Push

Chambers: 1 (Main Pontoon)

Valve (Seat): Stem

Weight Capacity: 300lb (136kg)

PSI (Pontoon): 1.0

Weight (Boat): 13.5lb (6.1kg)

PSI (Seat): 1.0

Weight (Boat + Key Accessories*): 14.0lb (6.3kg)

Outer (Length): 85in (216cm)

 



Weight (Boat + All Accessories): 16.0

lb (7.3kg) 

Outer (Width): 37in (94cm)

Packed Size (Rolled): 24 x 10in (61 x 25cm)

Inner (Length): 51in (130cm)

Sprayskirt Compatible: No

Inner (Width): 16in (41cm)

Thigh-Strap Compatible: No

TiZip Zipper (Length)**: 21in (53cm)

E-Power Compatible: No
Removable Tracking Fin (Length): NA
Removable Tracking Fin Compatible: No

D-Ring (Material): Stainless-Steel - 1in (2.5cm)

Warranty (Boat): 3 Year
D-Ring (# of): 6 Total = 4 Bow + 2 Stern
Warranty (TiZip Zipper)**: 1 Year



*Key Accessories for the XPD include the Inflatable Seat.
**TiZip Zipper is an optional feature.