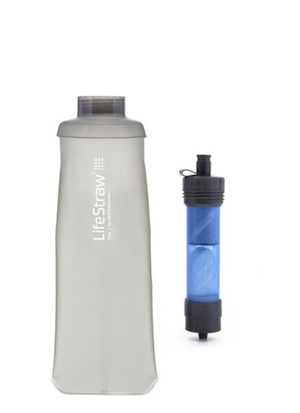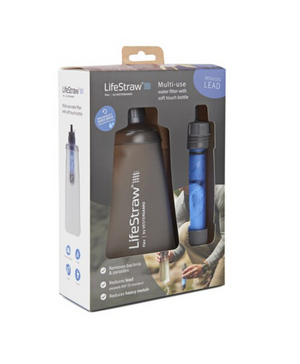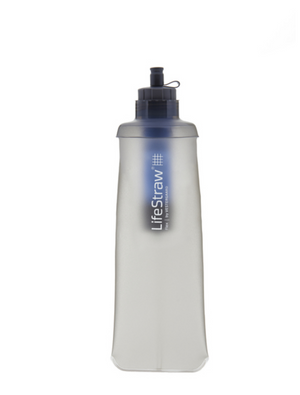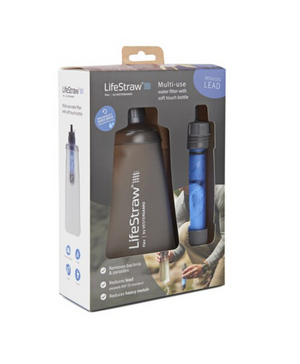 LifeStraw Flex with Soft Touch Bottle
Multi-Use Water Filter With Soft Touch Bottle. Ultralight, versatile and long-lasting filter with expanded protection and collapsible squeeze bottle for outdoor sports, travel, survival and emergencies.
Kit includes: LifeStraw Flex filter, 22 oz soft bottle and backwashing syringe for cleaning
Filtration technology: Hollow fiber microfiltration membrane (0.2 microns) paired with a carbon fiber filter
Microbiological filter capacity: 500 gallons (2,000 liters). Pores clog over time as the filter is used; reaching end of life when water cannot pass through.
Carbon filter capacity: 25 gallons (100 liters). With frequent use, recommended to change fitler every 3 months.
Soft bottle material: TPU
Soft bottle capacity: 22 fl oz
Soft bottle size: 10.6" x 3.85"
Filter size: 6.42" x 1.49"
Product weight with soft bottle: 3.15 oz (0.20 lbs)
BPA Free
Recyclable
Replaceable hollow fiber filter and carbon filters available
Versatility:
Can be used as a straw or in the soft bottle provided.
Fits most standard size hydration bladders. Using the LifeStraw Flex in-line with a hydration bladder is done by cutting the hose at the mouthpiece or midway.
Fits many gravity systems on the market that use a standard tube size. LifeStraw Flex is fits into the base of the tube connecting the bag to the filter. See how: (insert link to article)
LifeStraw Flex with a gravity bag and hose (instead of a soft bottle) is sold separately or you can purchase just the gravity bag and hose if you want to add it to your LifeStraw Flex with soft collapsible bottle kit.